NYC Studio
Q: What is your cancellation policy?
A: All classes must be cancelled within 12 hours in order to avoid forfeiting your class credit. Private Training sessions must be canceled within 24 hours in order to avoid forfeiting your class credit. 
Q: What do I wear for my first class?
A: Whatever you feel most comfortable in! Seriously; for our method, you need to be physically and mentally present in order to stay on beat and keep up with the choreography. Make sure that what you're wearing is not providing an additional challenge or distraction so you can get the most out of your class. As for footwear, in both bounce and sculpt, sneakers are required. 
Q: What protocol/procedures are you following in regards to COVID? 
A: We are currently aligned with NYC guidelines. All our staff has been vaccinated and trampolines and weights are always disinfected and sterilized before and after every class. If coming to class in person still does not feel like an option, all of our classes are simultaneously live-streamed: allowing you to join a sculpt or bounce class, in real-time, from the comfort of your own space.
Q: How do I find the schedule and book into a class in-studio/online?
A: Our weekly schedule can be found on our website in – studio menu and is also linked here. To book yourself into any class, simply select the class you wish to take and create an account using your desired email address directly on our website.
Q: What types of classes do you offer?
A: At the ness, we teach trampoline cardio and muscle sculpting classes. Within these two class types we offer various formats. In-studio, our bounce classes include something for every level: essentials, stability, intermediate, advanced, and hiit style classes. On our digital platform, you can find all of these formats, in addition to fundamentals and simple bounce if you're a trampoline newbie and craving a little extra knowledge and support to build your framework. In-studio, our sculpt classes include: ness sculpt, classic sculpt, and cardio sculpt. On ness digital, you can find these same formats in addition to simple sculpt and "focus" videos.
Q: What are your Class Package/Membership options?
You can find our pricing options on the pricing page.
Q: Do you have showers/a locker room?
A: While we do not have showers or a locker room at our NYC Studio, we do offer access to a plethora of  high quality skin-care and wellness products (cleansers, oils, serums, mists) for use after class. Small or large sweat towels are provided. 
Q: Do you sell water?
A: A water station is provided at the studio. 
Q: Do you ever teach outside of NYC?
A: Yes! While our Tribeca Studio is homebase, we frequently teach in the Hamptons, and in LA. To stay in the know for when we'll be on the road, and just where we'll be, make sure you're subscribed to our email updates. And hey, if traveling isn't your jam, stay connected with us anytime, anywhere, on ness digital.
Q: Do you offer a student discount?
A: We offer a 15% discount for students, active military and working dance professionals. Please email us at hi@thenessnyc.com with identification and we can set you up.
Digital
Q: How do I cancel my subscription?
A: You can cancel your subscription within your account by logging in and navigating to your account settings. We are also happy to help if you us at hi@thenessnyc.com.
Q: Do you offer any programs or challenges? How often?
A: On our digital platform, our library offers a plethora of classes, new drops every Monday and Friday, and season special programs and challenges. Our seasonal resets offer an abundance of entirely new classes released all at once, allowing you to participate in a bounce track, a sculpt track, or a mixture of the two. The structure of our challenges provides you with increased accountability, a deeper sense of community, and ultimately, allows you to create fitness habits that fit into, and enhance, your current daily routine.
Q: Can I "favorite" or bookmark the classes I love/want to retake?
A: Yes! If you open any class you can simply click "Add to Favorites" below the video. If you are using the
app you will see a small heart located to the right of the video. Click the heart until it turns black.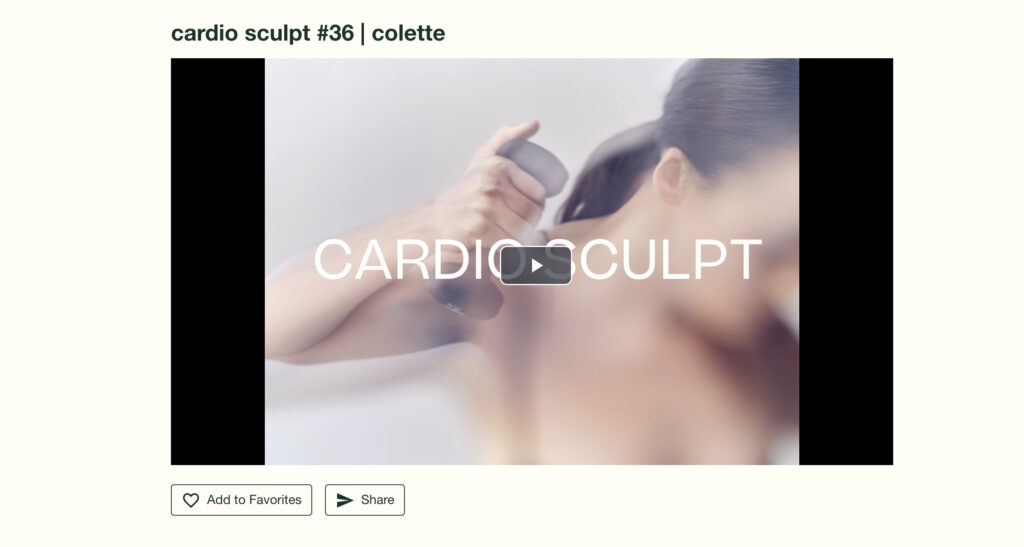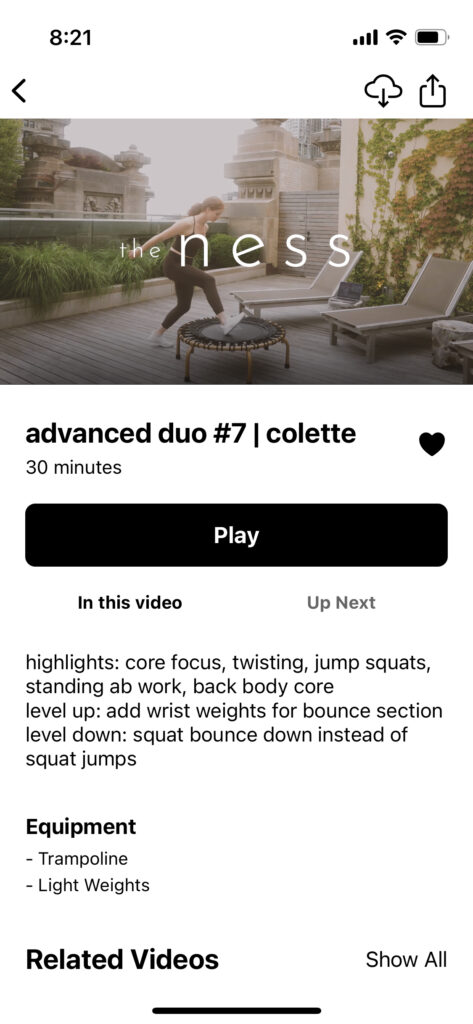 Q: Do you have any community spaces/forums to stay connected with other ness digital users?
A: Yes! You can join our community space, on Geneva. At the ness, we want to build our community alongside you and with you, so whether you're a long-time member, or our newest friend, feel free to share your wins, your challenges, ask any and all questions, and soak in the beautiful supportive energy of the ness family.
Private Training
Q: How do I book a private training session?
A: To book a private training session in the studio, you can do so directly by checking the schedule of available slots. For online and home private training please fill out the private training form and a representative will be in touch with you shortly. 
Q: What is your cancellation policy for privates?
A: All classes and private training sessions must be canceled within 24 hours in order to avoid forfeiting your class credit. 
Q: Why private training?
A: Privates allow you to curate your[ness] more specifically as it gives you the freedom to choose your trainer, specify your music, design your own training schedule and work towards your individual goals.
Q: Who do you recommend private training for?
A: We suggest privates for those who don't feel quite ready for the class setting, those new to fitness/returning to fitness after an injury, anyone who has more targeted specific fitness goals, or those that need more accountability/structure.
Q: What can I expect in a private?
A: While every private is different and specific to each individual and their specific wants/needs, expect the following elements to remain consistent:
o programming curated for you and your goals
o emphasis on alignment and form
o option for in-home, in-studio, or online
o option for 30, 45, or 60 min
o option for bounce, sculpt, combination
The Ness Trampoline
Q: What are the dimensions of the ness trampoline?
A: The ness trampoline dimensions are as follows: 
o 12.5" high frame
o 39" bronze frame with bronze legs
o 32.5" mat/jumping surface (enhances skirt included)
o weight: 21 lbs (supports up to 275 lbs)
The trampoline is shipped in one box that is 41" x 40" x 4" (L x W x H)
Q: What else is included when I purchase a ness trampoline?
A: In addition to receiving you trampoline, you also receive:
o  30 adjustable cords that allow for 3 adjustable tension settings (change the 
mat's firmness/customize your bounce)   For a clearer understanding on how to best care for your ness trampoline, check out our maintenance tips 
o one complimentary 60 minute online private training session and 25% off your first 6-months
Q: Where do you ship? 
A: We currently only ship domestically within the US. for any other inquiries regarding shipping/order status, please email us at hi@thenessnyc.com
Q: Is the trampoline refundable?
A: At this time we do not accept returns for the ness trampoline. All sales are final. You may exchange purchases for store credit, but refunds will not be issued. 
Q: Where do I store my Trampoline?
A: As silly as it sounds, anywhere. Your trampoline can be tucked between a bookshelf and wall, slid underneath the bed, hung on the wall with a sturdy hook, or left out to shine in all its glory. There's not one "right" way to store it and let's be real, you're going to be using it quite often, so wherever you do find space for it, you'll want to make sure it's fairly accessible and easy to get to. Check out where some of our clients store theirs if you still want a little bit more storage inspiration.